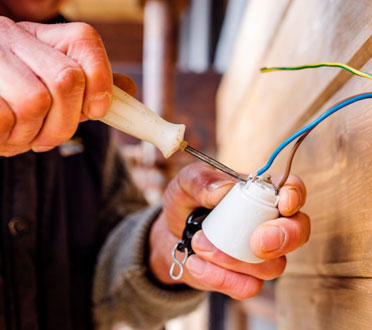 Electric Repair Services Minneapolis, MN
When it comes to electrical repairs in your Minneapolis, MN home, MJ Electric wants you and your family to be safe. When you begin to work with wiring, consider calling an electric repair service. Electricity is a wonderful creation that demands a certain level of respect. DIY home repairs are becoming more and more frequent and while the electrical repairs you complete may fix a specific problem you are having they can cause more trouble and hazardous situations down the road. The five minute video you watched from the internet is not sufficient information for you to stick your hands into a fuse panel or breaker box.
Call MJ Electric and have a professional electrical repair contractor take care of your electrical problems. From outlet repairs and fixing flickering lights to complex electrical repair and replacement projects, the Minneapolis, MN area electrical repairs contractors at MJ Electric can take care of all your electric repair needs in a safe and efficient manner.
Use our experts for your electrical repair needs, we can help with:
The electric contractor you work with will work with you to discover your specific electrical requirements and provide solutions to meet your exact requirements. Through superior attention to detail, personal service, ongoing trainings and certifications our commitment to our clients' need has earned a reputation for excellence that keeps our clients coming back. Give MJ Electric's residential electric contractors a call at (612)598 -0793.