Home Rewiring Minneapolis, MN
Maintaining your Minneapolis, MN home's electrical wiring and electrical components is a must when it comes to electrical repair and maintenance decisions. One of our specialties at MJ Electric, is home rewiring. From replacing outdated wiring to installing new electrical wiring for new construction and remodeling projects, our skilled electricians are reliable, professional and follow electrical code and safety standards strictly for quality assurance and peace of mind.
It is important that Minnesota homeowners periodically have their home wiring checked to ensure that they are still complying with the area regulations.
Outdated Wire Replacement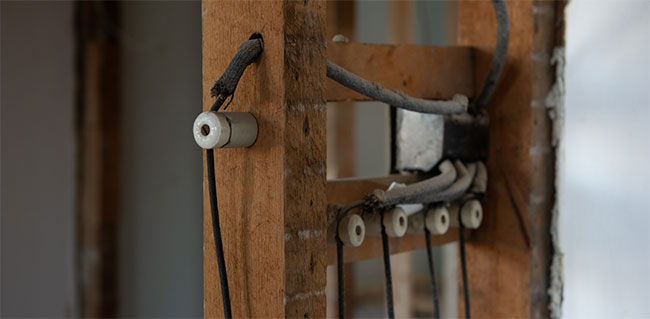 One of the biggest changes is the installation of Aluminum Wiring and Knob & Tube Wiring. These types of wiring installations are no longer considered safe and should be replaced.
Due to the safety risks that aluminum wires present, only copper wiring has been used for electrical systems since the 1970′s. The reason aluminum wiring is such a fire hazard is because it shrinks and expands depending on the temperature. Changes to the aluminum wires can result in overheating, sparks and fires by coming loose from its connectors.
Knob and tube wiring is very dangerous and should be replaced. Originally the wiring was designed to carry less electrical current than today's standard wiring. The appliances of today demand much more current of electricity and the wire can become hot becoming a fire hazard. The protective coating around the wire is considered improper. When the wire is bent the coating becomes brittle with age and simply falls off creating a hazardous condition.
Electrical Wiring Services We Provide In Minneapolis, MN